50th Anniversary
2012 Class Reunion
New Orleans, LA
Cruise to Cozumel, Mexico
Reunion Recap
In the 50 years since we all graduated from pilot training we have traveled in many different directions and experienced a myriad of adventures. Two things that have never left any of us is the love of aviation and the camaraderie we initially developed while we struggled to attain those coveted pilot wings. All of our reunions have reinforced this camaraderie, but this last reunion was particularly poignant. What follows is a summary of the events of our 50th Reunion, but what cannot be adequately expressed in words is the feeling of closeness and friendship that was instantly reestablished among all of us. For a few days we were all young again, just starting our careers and full of hopes and dreams. It was a great reunion and we look forward to many more.
The 50th Anniversary of our graduation of Pilot Training Class 63-D was a Dinner in New Orleans and a cruise to Cozumel on the ship Carnival Elation held October 10-15, 2012. Those who signed up for the Reunion Dinner and Cruise included Jim & Karen Beatty, John & Judie Butterfield, Joe & Ann Campbell, Nangylai & Fahima Ghafarshad, Gerry & Jean Kons, Don & Bev Lindbo, Lloyd & Allie Powell, Don & Suzanne Rosborough, Don & Ann Shotz, Steve & Joyce Whittenberger and Doug & Glenn Wood. Bill "Tango" & Mary Scott signed up but had to cancel at the last minute because of a medical problem. (Tango is now doing quite well and looking forward to our next reunion.) We were especially pleased that John & Marita Hainor, Ahmad & Mah Boo Ba Jamil and Joe Sutila were able to join us for the Reunion Dinner before the Cruise.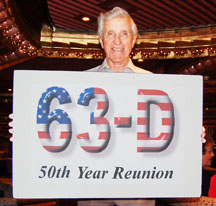 The reunion began with the arrival of the classmates and their wives on Wednesday, Oct. 10th at the Four Points French Quarter Hotel (formerly the Inn on Bourbon) which is located right on Bourbon Street in the French Quarter. Several arrived earlier to be able to really take in the sights and sounds of New Orleans.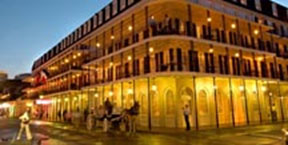 We started off with a Welcome Cocktail Party on the hotelís open air patio complete with hors díhouvres. By then, all of us had donned our fantastic polo shirts and hats complete with embroidered logos. (Thanks to Doug Wood for his efforts in getting the shirts and hats.)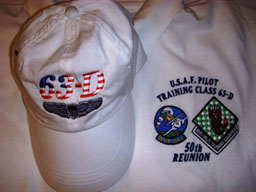 That evening the gang gathered for dinner in the hotel restaurant which was reserved just for Class 63-D. The menu was designed with Louisiana cuisine in mind and included Chicken & Sausage gumbo, Caesar and Artichoke Salad, Roasted Strip Loin with Brown Gravy, Louisiana Marinated Grilled Chicken with Crawfish Sauce, Pecan Crusted Red Fish with Lemon Cream Sauce and finished off with Bread Pudding and Pecan Pie.
The next morning we bid farewell to Joe Sutila, the Hainors and the Jamils and made our way to the dock. Most of us boarded early and took a tour of the ship Carnival Elation.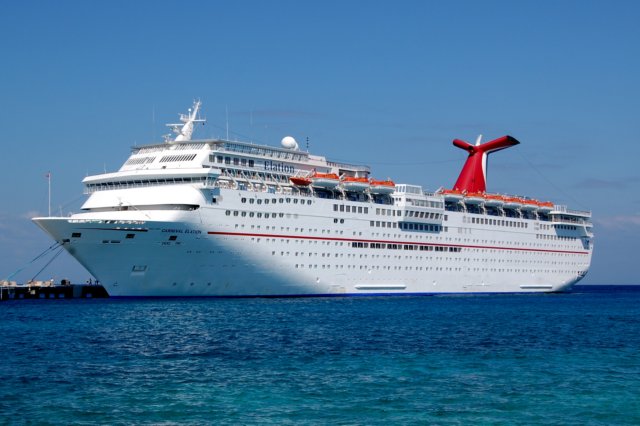 The ship departed New Orleans promptly at 1600 and we had a leisurely trip down the Muddy Mississippi passing the sights of New Orleans, the site of the 1815 Battle of New Orleans, and watching the sunset. After the lifeboat drill, many of us gathered on the top deck stern of the ship as the sun went down. For dinner, we all sat together in three tables which were right next to each other. We switched tables each night to insure that we were able to sit with everyone else on the cruise.
During the day, everyone was on their own and sometimes getting together for lunch swimming or cocktails. Each evening, we would gather at one of the bars before and after dinner. Lots of swapping lies and telling or our past and present lives and adventures. On the second evening, the ship gave us a no host cocktail party.
Friday morning, we arrived in Cozumel. Most of got off the ship and ventured out to the tourist village on the dock. And then, almost all of us gathered at a local eatery for a great lunch. We departed Cozumel that evening at 1700.
Saturday was another day at sea and we finally pulled back into the port of the Big Easy at about 0800 on Sunday. We said our last goodbyes over breakfast and went our separate ways.
FYI, Doug Wood and Joe Campbell were the ones who planned, organized and conducted the reunion, so blame us for everything that went wrong.
The 50th Reunion Cruise was such a great success that we have decided that waiting until our 55th may be too long for some of us. Nangy has kindly offered to host another reunion in 2014 in his hometown of Claremont, CA (Northeast of LA). There will be more info on this coming out shortly.