ABNORMAL
Terry County Auxiliary Field
This airfield was originally used during WW2 as one of 5 satellite airfields for Lubbock AAF (later renamed Reese AFB), which conducted primary & instrument flight training. During WW2 it was known as Lubbock Auxiliary Army Airfield #2, or South Field. Unlike most WW-2 era satellite fields, this one was retained in service by the Air Force following the end of the war.
A 2,826 square foot storage building was constructed in 1960. At some point between 1945-66,the primary runway was significantly lengthened to support jet training at nearby Reese AFB. It was labeled "Terry Co AF Aux" on the 1966 Roswell Sectional Chart and was shown as having a single 8,900' paved runway. It was labeled "Terry County Auxiliary Airfield" on the 1973, 1983 & 1991 USGS topo maps. A 2,942 square foot fire station was built in 1990.

Members of Class 63-D know this field as Abnormal.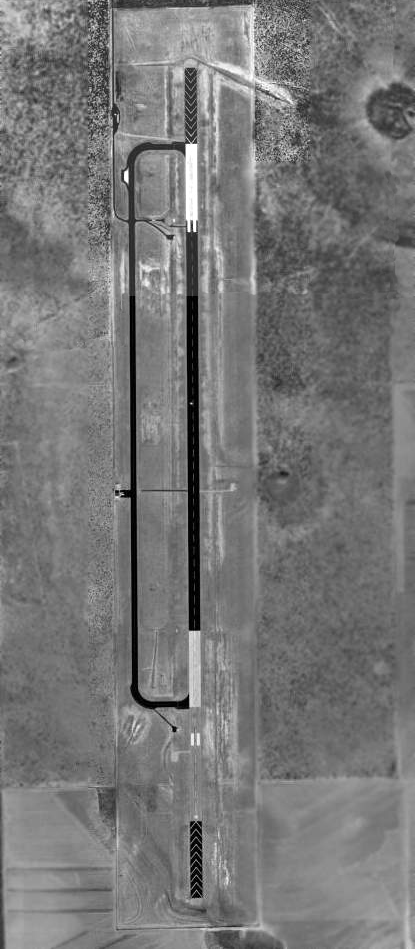 USGS photo 1996, while the field was still open.
The Reese Auxiliary Airfield was presumably closed when Reese AFB itself closed in 1997, if not before. At the time of its closure, the airfield consisted of one maintained runway (1/35, 8,900' long) and a parallel taxiway. In the above 1996 aerial photo, the remains of a possible additional SE/NW runwaywere still visible at the north end of the primary runway.
When Reese closed a local crop duster from Levelland bought airfield to base his operation. Between 1996-2002, the airfield was used as a drag racing track. In 2005, the Auxiliary Airfield was offered for sale on Ebay. The field is presently abandoned.
Thanks to Paul Freeman for much of the above info. Visit his site at Abandoned & Little-Known Airfields