Graduate
Peter Hickman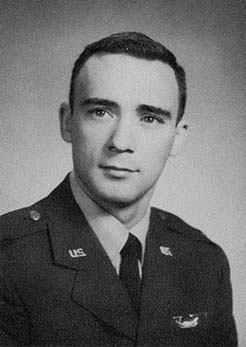 Pete & Mary Lou Hickman

2002 Reunion
2007 Reunion
Biography
Born in Detroit, Mi June 5, 1938,
Hometown: Adrian, Michigan
Graduated from the University of Michigan in 1961 with a BS in Aeronautical and Astronautical Engineering. Commissioned as 2nd Lt.
Entered active duty in Nov. 1961, entering Pilot training at Reese AFB, TX.
After graduation from Pilot training was immediately assigned to 3535th Navigator Training Wing at Mather AFB, CA. flying Nav-Bomb students around in T-29 aircraft. After 3 yrs at Mather, Defense Sec. McNamara offered in a cost cutting move to release regular officers 1 yr. early. I applied for this program, and was approved 2 hours before they cancelled the whole program. I was discharge from the regular AF on Dec 7, 1965. I was promoted to Capt. Sometime after that in the reserves, and was discharged from the reserves in Aug 1972.
After leaving the AF in 1965, I was employed by Hamilton Standard Div. United Aircraft in Windsor Locks, CT. There I was a Senior Experimental Engineer and worked on testing and designing fiberglass and titanium propeller blades for the XC-142 tilt wing experimental aircraft. We lived in East Hartford and Glastonbury Ct. during this period.
In 1968 I was called to enter the Family business Brazeway Inc., and we moved back to the good ole home town of Adrian, MI. Here I spent most of the time as Vice President of Engineering and Chief Technical Officer. Brazeway was the world's premiere manufacture of aluminum evaporators and condenser parts for the air conditioning and refrigeration industry.
In 1983, I sold my interest in Brazeway to my brother and set out for new horizons. I started a computer consulting company in an old barn nearby, and that eventually changed to video production of training and sales and marketing videos. In 1993 one of my customers and I merged our businesses and started Blue Sky Productions, Inc. We produced broadcast programs for PBS and Speed Channel, along with doing industrial videos etc. You can visit www.blueskyproductions.tv, www.autolinedetroit.tv, or www.theautolink.com to see more specifically what we do.
Wife Mary Lou plays tennis at least once a week, takes care of the two cats, and tends to mother and mother in law. Kids: Chris, lives in Brooklyn, NY with wife Jenn, is an actor, screenwriter, playwright, and presently works for Vanity Fair as a reporter researcher, they're expecting our first grandchild in July. Lisa, married to Jason is attending Vet school at Michigan State University and they spend the summers at Camp Betsy Cox in Vermont where Lisa heads the girl's horse riding program. Hobbies I enjoy: photography, tennis, bike riding, kayaking.