Graduate
Tom Linnivers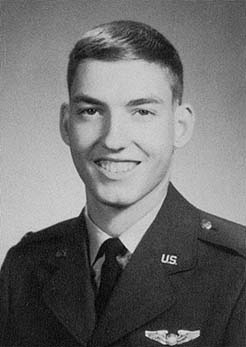 Captain Thomas C. "Tom" Linnevers
Tom was born in Cleveland and raised in Lakewood, Ohio. He graduated from St. Ignatius High School in Cleveland and went on to get his BS in geology from St. Louis University.
Tom entered the Air Force via the AFROTC program and soloed in November, 1960 in a Cessna 170 at Parks College Airport in E. St. Louis. He went on to UPT at Reese AFB, Texas getting his wings on December 7, 1962. Tom and Sue were married on December 22, 1962 in Cleveland, OH. Beginning in January1962 he was assigned to McClellan AFB, Sacramento, California. He flew EC-121D's (Lockheed Constellations) with the 963rd Airborne Early Warning and Control Squadron of the 552 AEW&C Wing of the Air Defense Command. He was an aircraft commander and mission instructor accruing over 2300 hours of flight time. Tom left the Air Force under the "Early out" program on December 10, 1965 with the rank of 1st Lt.
Tom went to work for American Airlines on December 13, 1965. His new hire class included UPT 63-D classmates Gary Bergman, Jerry Kons, and Lynn Scott. Ed Svetlick joined AAL shortly after. Tom was based in New York for his entire career. He has flown the Boeing 727, 707, 747, 757 and 767 and DC-10. Tom flew his last trip on October 27, 1999. For ten years he was a member of and later chairman of the Allied Pilots Association LGA Domicile Professional Standards Committee. Tom was The Grey Eagles (Retired and Senior AAL pilots' organization) North East Area Director for four years and was the Chairman for the 2000 Grey Eagles San Antonio convention. He and Sue were also part of the search committee for the 2006 Grey Eagles Convention.
After retirement Tom and Sue bought a powerboat. They cruised and lived summers on it for six years. There has been lots of travel to Europe (Luxembourg), the West Coast, and Vermont to see their five children and seven grand kids. Since selling the boat Tom has had more time to play golf. In 2008 he started "Tom the Handyman". He does little projects for people in the Southbury area.
On October 28, 2013 Tom and Sue sold the family homestead they built in 1971. They moved across town to an over 55 condo development, Heritage Village, and are trying to cram 42+ years of stuff into a two bedroom condo.